Investigating the future of human-machine interaction in the workplace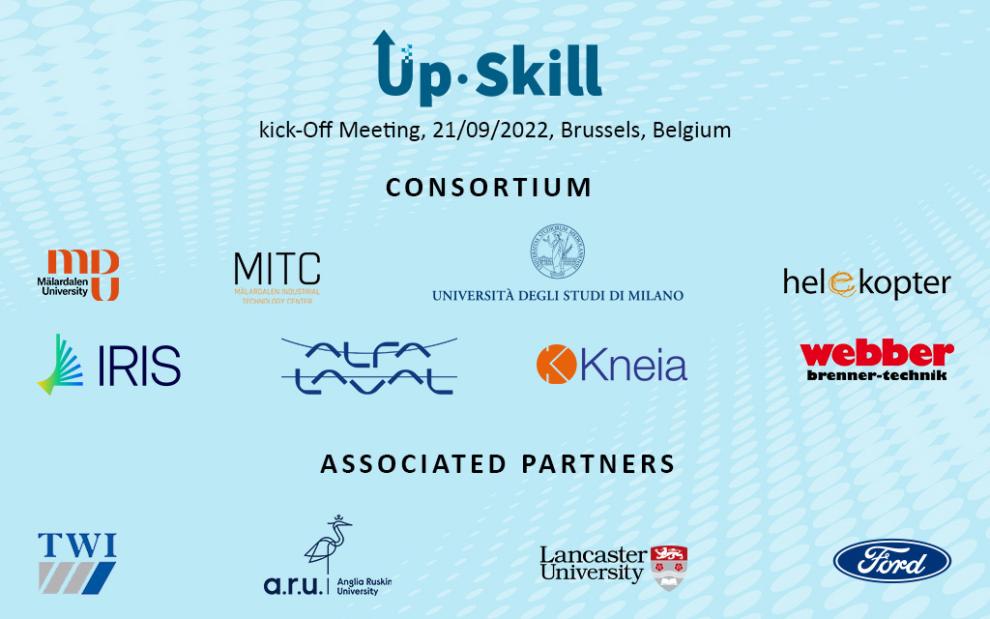 On the 21st of September 2022 in Brussels, Belgium, the Up-Skill consortium members and associated partners gathered for the first meeting of the project to discuss the rationale behind the research, the objectives, timeframe and coordination efforts to maximise the project´s results. Over the next 3 years, the Up-Skill project will investigate the relationship between automation, skilled work and organisational systems through conducting ethnographic research in a variety of industrial, manufacturing and supply chain settings.
The Up-Skill consortium consists of 8 organisations (2 universities, 1 research and technology organisation, 3 industrial partners and 2 SMEs) from Sweden, Italy, Spain and Germany, and 4 associated partners from the UK (2 universities, 1 research and technology organisation and 1 industrial partner).
Coordinated by Mälardalen University (MDU), the aim of the project is to identify changes to job roles, job networks and managerial competencies that the introduction of new technologies will bring, and how these changes fit into the broader market context where these organisations operate. The data compiled from the case studies will be used for 2 main purposes:
To produce technology implementation recommendations and training manuals for each of the industrial partners involved in the case studies that are best suited for their business aims, organisational structure and market context.
The construction of the Up-Skill Platform, a data repository and Decision Support System (DSS). The data obtained from the case studies and related historical cases will be stored and processed into higher level information using state-of-the-art numerical techniques, algorithms and AI. This information can then be used by organisations when making decisions regarding technology implementation, assessing job roles, skill requirements, training and organisational restructuring.
Broadly speaking, the Up-Skill project will address under-explored strategic spaces in production - where automation adds value to skilled and artisanal work - and where further automation risks undermining product value. The research will identify the shifting organisational characteristics that are needed to implement technology advancements whilst maintaining a broader, more nuanced perspective about how these new technologies can be best utilised for the benefit of industry, workers and society as a whole.